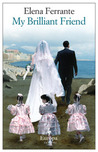 My Brilliant Friend
by
Elena Ferrante
My rating:
5 of 5 stars
I first heard of Elena Ferrante in 2015 in an interivew in the Paris Review. What caught my attention - and which has become a sort of talking point around her - was her wish to remain anonymous and use a pseudonym, despite being considered one of the best contemporary writers working in Italy today. So when my turn came to choose a book for my bookclub, I decided to go with
My Brilliant Friend
, the first in her Neapolitan tetralogy.
The novel centres around the lives of two girls, Lenu and Lila, born towards the end of the 2nd World War in a poor neighbourhood of Naples, and who are brought up together in a community riddled with tensions, with communists on one side and fascists on the other. In this very male-dominated world, the two friends carve their own particular path with the limited opportunities they are given.
A critic at the London Review of Books described the tetralogy as a nation novel, but seen through "the minutiae of women's lives", even going as far as calling it the great Italian Novel. What interested me as I read was whether it was a feminist work, in the way the novel explored how the world of men impacted on the world of women, and how these particularly strong and intelligent young women, Lenu and Lila, tried in their own way to overcome the bad cards handed out to them. There's also this really interesting Cinderella motif that holds the story together, which Ferrante twists around for ironic purposes. A good marriage is the only way out for young women in this community, but the "young princes" are hardly a catch. And, in any case, Lenu and Lila want to make it on their own - they want education, independence and their own work to be rewarded. Lenu writes a fairy tale as a young girl, then designs a beautiful pair of shoes when she's older, to help her family's shoe business. There is, of course, a "fairy tale" wedding towards the end. By then the reader knows to expect anything but a happy event.
Ferrante's writing style is sparse and goes against what's thought to be "good" fiction (
My Brilliant Friend
is almost entirely "told" rather than "shown".) Somewhere in there lies her appeal, I think.
My Brilliant Friend
divided the members of my bookclub. Some, like myself, thought the storytelling was imaginative and that details rose to the surface and enriched the story (this being Ferrante's secret for ensnaring the reader.) Others couldn't get into her narrative voice, even felt the English translation by Ann Goldstein was awkward throughout.
View all my reviews